Article by Bob Hayes – Operations Manager, Hot Air Cairns
One of the things I really enjoy about my job is the different people I meet from all over the world, and finding out about them and what inspires them. I have always enjoyed my job, and especially on days such as today, when I got to play a small part in the latest Tourism and Events Queensland promotion '24 hours in Queensland'.
The promotion involves getting 5 cutting edge videographers from the USA and the challenge set for them was; creating, filming and editing their bucket list trip to Queensland – within a 24 hour period.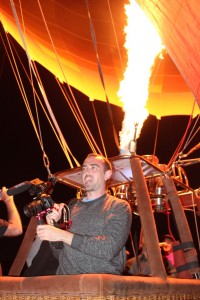 As you can imagine, this involves a lot of planning! The videographer selected to shoot Cairns, Callum Hanlon, really, really wanted to experience Hot Air Ballooning, and who can blame him? It is one of the greatest things to do when in Cairns, regardless of the length of your stay or time of year.
My role was to escort Callum and his gear, picking him up from the Hilton Hotel in Cairns to our launch site in the beautiful Mareeba valley. We have over 50 different launch sites, so we never quite know where we are going on a particular morning. Hot Air balloons travel with the wind, so with each new day we carefully look at the weather for that day and using our pilot's vast experience over many years, select the best place to take off from.
Today's launch site was in the south eastern corner of the valley, giving us a great view of the hills that surround Mareeba and give the valley such excellent conditions to go ballooning. We arrived at the site after a leisurely drive through the World Heritage listed rainforest of the Kuranda range in plenty of time to watch the balloon inflation. Once close to the balloon, Callum dragged his Canon EOS T2i with wide angle lens and attached it to his stabiliser. Taking plenty of spare batteries and cards, I showed him how the balloon is inflated, first using a fan, and then later with short bursts of hot air from the burners.
Callum got some great shots of Jay the pilot, working the burners so that the air slowly mixes between hot and cool, to make warm air which slowly fills the balloon. Once the pilot is satisfied everything is ready, he uses the burners to create more hot air, until the balloon stands up.
The majesty of a Hot air balloon rising to stand strong and tall in the early morning light is an amazing sight I still get a thrill out of!
Jay is one of our senior pilots and once he had completed his pre-flight checks, it was time for Callum to climb aboard and start getting up close and personal with Hot Air ballooning!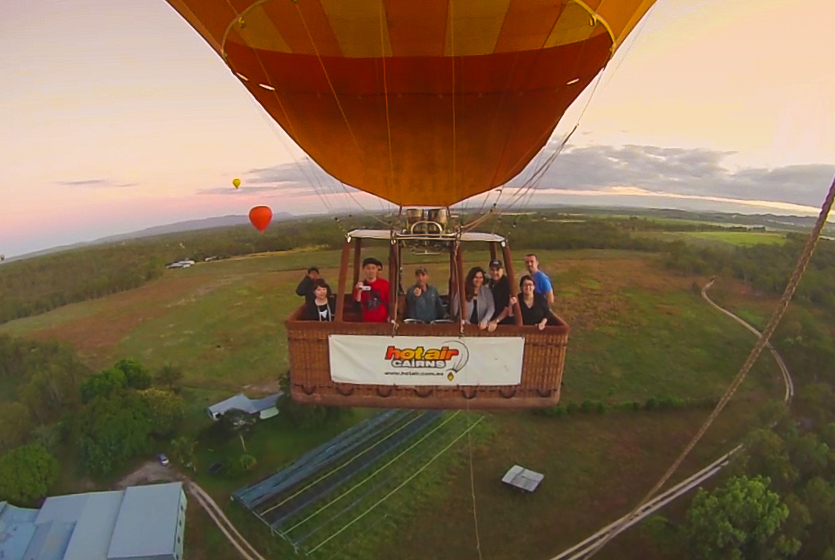 The take off in a hot air balloon often sneaks up on people. One minute they are on the ground, and the next, floating gently away using only the breeze for motion, often they haven't even felt they have lifted off!
Callum was filming everything, not wanting to miss a moment of his first balloon ride. He mentioned he got some great shots of wallabies bounding through the Australian bush, while others watched nearby, waiting to pose for photos before hopping away!  Then as Jay climbed higher, Callum could see the beautiful scenery that Mareeba is renowned for. The hills surrounding the valley lit up as the sun peeked over the ridges, making for perfect filming conditions.
ARVE Error: src mismatch
url: https://www.youtube.com/watch?v=O3kYjvzU_k4&list=UUVGxos7QwCtmWxTgzdPqO1w
src in: https://www.youtube-nocookie.com/embed/O3kYjvzU_k4?list=UUVGxos7QwCtmWxTgzdPqO1w
src gen: https://www.youtube-nocookie.com/embed/O3kYjvzU_k4

Jay used his extensive knowledge of the valley breezes to set up a perfect landing about 6km (4 miles) from where we had taken off.
Callum was able to get some more creative shots as we deflated the balloon, so that we could pack it up and put it back into its bag, ready for tomorrow.
As I said, this was Callum's first Hot Air balloon ride, & judging by how much he raved about it, I'm guessing it won't be his last!
He is going to have a very difficult time editing when he has so many beautiful shots taken during the morning.
Good luck, Callum!
It was great to be able to help out today, can't wait to see the video!
You can view a portfolio of Callum Hanlon's work on his own site www.callumhanlon.com